Relocation is exciting and nerve-racking all at once. It requires many discussions, planning, and setting yourself down the right path so when you relocate, you are successful in your new home. Regarding the relocation topic, there is a lot to decide on. We have compiled some questions to ask yourself, how to make the best of it, and a checklist to help support your move. It's not an easy decision, but with the proper planning, it can be rewarding and a brand new life adventure for yourself, your family, and your friends.
Don't have time to read the whole article? Download our relocation checklist and come back here anytime!
Questions to Ask Yourself Before You Relocate.
It's important to practice effective decision-making in a scenario like this one. Here are some of the major questions we feel can be major deciding factors. Click here to view more questions like these that will help you to further think through your choice.
1. How does the cost of living compare to your current state?
The cost of living is the most important and first factor you'll want to look into before moving to a different state. Housing costs, taxes, healthcare, and transportation are among many factors that vary around the country.
2. Does your new position pay more than your previous one and enough to cover those expenses?
Take time to do the math and research to be sure that your salary is not only greater than your current one but enough to compensate for the changes.
3. Does this new position offer more opportunities for advancement than your current one?
Don't just settle for a better job; think ahead and map out the future of your career. If you plan on staying in this new state permanently, ensure that this company offers room for advancement. You'll be happier and more fulfilled in the long run.
4. How are the schools in your new area?
If you have a family, It will already be a bit of a culture shock for children to be in a new environment and have to make new friends, so it's essential that the quality of their lives and education stays the same after the move.
5. Are there entertaining things for you to do outside of work?
Work-life balance is imperative in maintaining happiness, fulfillment, and being your best self at work. Do you like adult team sports? Live music? or art classes? Find out what you would like to do when you're not in the office and if those things are near you.
6. What is the job market like?
If the only thing your new city has to offer is your job, this can be a problem in the future. If your new city has a booming job market, this will put you in a comfortable position if you decide that you would like to pursue something else without having to move back home or if you have a spouse who may need to find work.
7. How safe is your new city?
Safety is a major factor in your well-being, and the lack of it can add serious stressors to your life. Research the areas near your new job and factor that into your decision. It may be the case that you'll choose to buy or rent a little further out from the office.
8. How easy is it to get around?
We spend a significant part of our lives commuting from one place to the other, and if you live in a major metropolitan city with more traffic, commuting may take up a good portion of your day. Consider how you'll commute in your new city and identify what works best for you. It may not seem like the most significant factor when compared to salary and cost of living, but you won't feel that way when sitting in bumper-to-bumper traffic or struggling with a subpar public transportation system.
9. Can you see yourself living in this city long-term?
This question encapsulates all of the previous points mentioned before. All things considered, is this a city you can see yourself calling home forever, or will you have to tough it out for the sake of a job? If you plan on this being a temporary life change, think about your next career move and your game plan for when you go back to your hometown.
10. How will this affect the overall quality of life for you and your family?
Landing a job in your field with great pay and prospects for advancement is a pretty exciting accomplishment. However, you must weigh the options out if it seems like your significant other or children may not be happy with the move. Sit down with them to discuss their concerns, pushback, or conditions.
The good news is studies show that job relocations are viewed as overwhelmingly positive by movers. The majority say that they are either satisfied or neutral with their relocation, while only 14.3% of movers report dissatisfaction.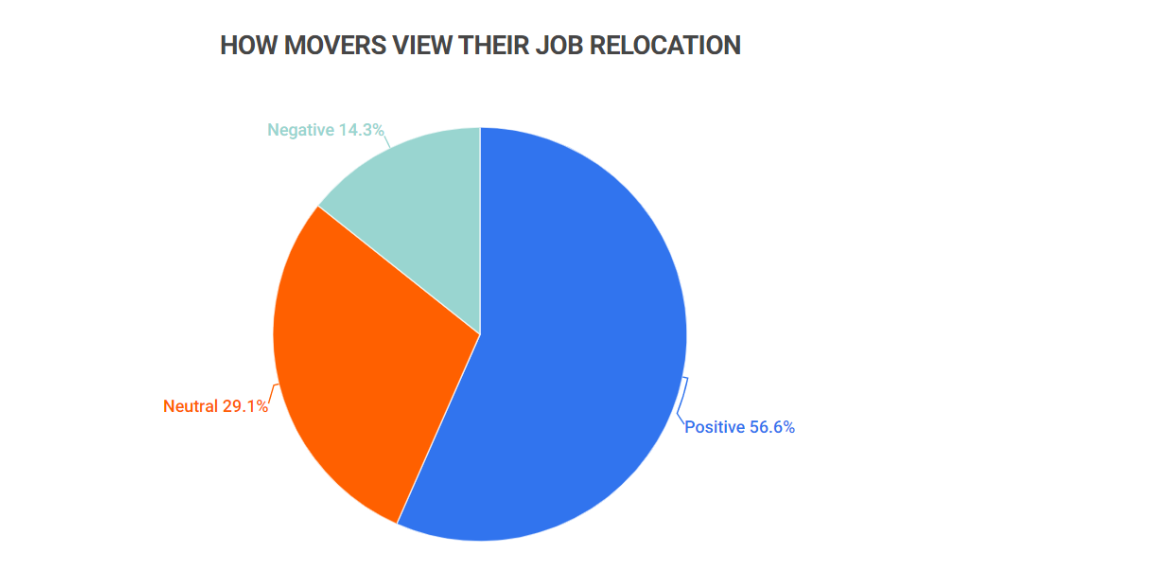 How To Make The Best of Your Relocation.
Negotiate to get your moving expenses covered.
Many companies will have no issues offering relocation packages; reportedly, 64% of companies offer this benefit. Doing so guarantees them the right talent and better retention. If the company you are interested in is one of those, review the package and ensure all the costs you incur are included. If there seem to be any holes, address them with your new employer.
Leave no questions unanswered before you accept the offer.
In addition to reviewing the details of your relocation package, it would also be in your best interest to create a list of questions, concerns, and requests from your employer to clarify every detail of your employment. This is important before starting any new job, but because you are moving across state lines, the stakes are much higher, and you can't afford the chance of running into any disagreements with your employer.
Keep up with your wellness and routines during and after the move.
Moving can take a lot out of anyone, but it's important to take care of yourself in the process. You want to start at your new position in the best physical and mental state possible in order to put your best foot forward. Also, continuing your same routine after the move will help you feel more at home and better adjusted to your new location.
Start networking before the move.
Having a network anywhere you go is important, but building a network when you find yourself in a new state where you may not know anyone is essential. Just as it took you years to develop your circle back home, it'll take a while to build one in your new home. Get a headstart by utilizing social networks like LinkedIn to connect with professionals in your field and reach out to other employees at your new company to get acquainted.
Keep extremely organized during the process.
Moving is already hectic as is. Don't make the process harder than it needs to be by being in disarray. Have an organized system for packing your belongings, and don't wait until the last minute. We'd even advise you to hire help with the process to give you more time to tackle the multitude of other things that will need to be done in your moving process.
Below are the results of a survey exploring the challenges of job relocation. Consider these factors when preparing to move by planning ahead to combat these challenges.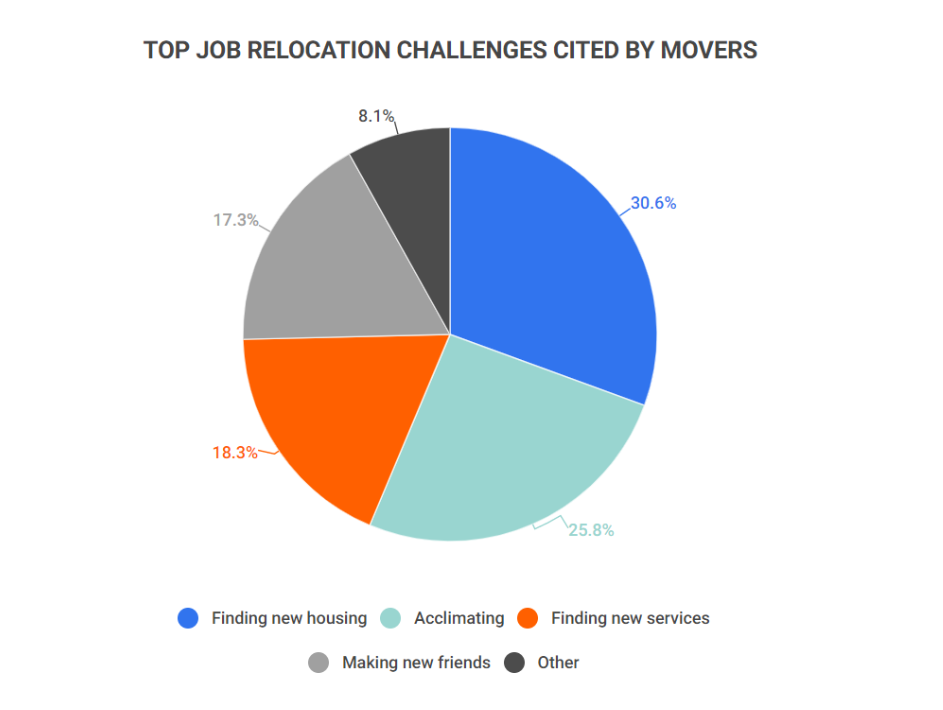 How to Prepare for Relocation.
Relocating across state lines can be intimidating, but it can be done efficiently with a little organization and guidance. You'll want to start the process as soon as you accept your job offer. Having a list of essential tasks to run through will also make the process run smoothly, so stay tuned for our ultimate relocation checklist to keep you on track for your big day. Best of Luck!
Two months+ before
Set a budget for your moving expenses
Alert your neighbors of your move
Take a look at your new place
Book your flight in advance
Set up transportation for your vehicle
Research your new community
Six weeks before
Get rid of your unneeded items
Order moving supplies
Find new healthcare providers
One month before
Begin packing your belongings
Fill out change of address forms
Forward your medical records to your new provider
Two weeks before
Acquire your packing materials
Get a tuneup for your vehicle
Arrange to have the day off for your moving & packing if you're moving within the same company
One week before
Set up mail forwarding
Pack your suitcases
Refill your prescriptions
A few days before
Get rid of perishables
Arrange payments
Withdraw cash from the bank
Moving Day
Do a final sweep of your home
Pack any last-minute items
Put up curtains in your new home
Tip your movers
Click here to download our full moving checklist resource.
Don't forget to visit us on our other platforms for more valuable resources that will help you run your firm better or find the right firm for you. Follow us on Instagram, Facebook, and LinkedIn today. Also, check out other articles that can help you better your business, like this piece from our Principals sharing what they've learned in the past 20 years.