Tenacious and Driven Matchmakers Who Produce the Best Results for You
Interior Talent is the trusted talent recruitment and outplacement agency for the architecture, interior design, and engineering industries. We have been helping companies find the right people to build the right teams since 2003, and our vast experience and tenacity enable us to produce proven results continuously.
Our architecture and interior design recruiters in Chicago understand that your business is only as successful as the professionals you hire. This is why we diligently implement our straightforward recruitment process and go the extra mile to find the best candidates for your vacancies. In addition to this, we've founded our end-to-end hiring service on trust, clarity, credibility, and sustainability to connect you with right-fit talents effortlessly.
Interior Talent also boasts a relational hiring process. This means that we don't stick to transactional practices. Instead, we invest time and effort in getting to know our candidates' skills, competencies, and career goals before matching them with the latest Chicago architecture jobs. We treat them as valued individuals and advocate for their career advancement however we can.
With our defined area of expertise and relationship-driven recruitment, Interior Talent aims to be your long-term recruitment partner. We're here to set the stage for firms to find highly qualified professionals while supporting our network of architects and designers in landing their dream roles.
Want to learn how Interior Talent can help you grow your team or advance your career? Connect with us today to speak with our talent search experts.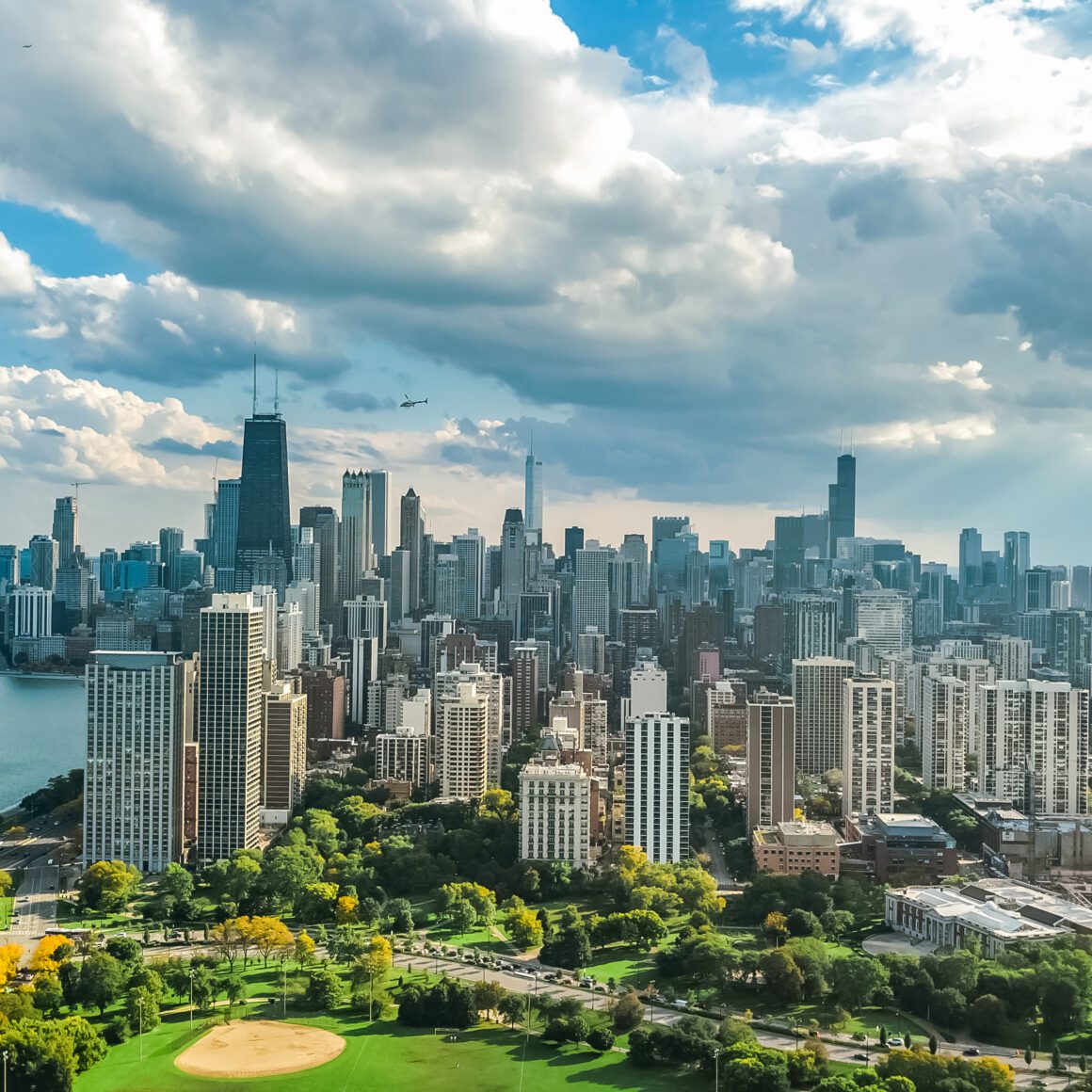 The Interior Talent team overcame our challenging conditions and found us two amazingly talented team members. We've been searching independently for years and couldn't achieve what Interior Talent seemingly did overnight. They are now our go-to source for talented interior designers.
Interior Talent knows what they are doing. There is a marked advantage in working with a specialized recruiter. They truly listen to us and have learned our needs, nuances, and culture to find us the best candidates. These have resulted in some of our most successful matches. We highly recommend them… to everyone that is not our competitor… that's how good they are!
I was not looking for a new position when Interior Talent contacted me, but it worked out and I owe them for my current position at Marriott. Based on my conversations with them, they quickly identified my strengths, understood my needs, and knew the right fit for me. They were timely, very personable, kept me informed throughout the process and was generally great to work with. I highly recommend Interior Talent for anyone looking to further their career in the industry.
Industries We Serve
We Deliver Specialized Solutions To Meet All Your Industry-Specific Needs
The A&D industry is our specialty, and we've been filling Chicago architecture jobs with thoroughly vetted candidates for almost two decades. The secret to our continued success lies in our deep knowledge of the complex architecture job market, our solid understanding of industry demands, and our comprehensive interview process. We have the resources needed to establish mutually beneficial connections among our partner firms and architect candidates.
While the average hiring process can take 23 days in the U.S., we understand that you don't have the leisure to leave your business development roles vacant for that long. This is why we tap into our network of thousands of business development managers, strategic planning directors, and senior account executives to find the best fit. Interior Talent takes the burden of recruitment off your shoulders so you can focus on growing your organization
While we have a knack for filling architecture and interior design jobs in Chicago, Interior Talent is also capable of securing top talent for engineering firms. We do this by taking the time to dig deep into the candidates and companies seeking our expertise. Our engineering recruiters in Chicago then use the data we collect from both parties to create culturally aligned, rewarding, and long-lasting connections between top talents and engineering firms.
Administrative and Technical Support
It takes skilled and responsible support staff to allow you and your designers to focus on your business's core tasks. As such, our expert recruiters do what it takes to match the right professionals to your support roles based on their technical skills, credentials, values, and career goals. They also pay careful attention to design engineering technicalities and nuances to build strategic client-candidate connections.
The interior design sector is teeming with certified talents and interior design jobs in Chicago and across the country. While this sounds like a good thing, such an abundance of choice makes it hard for professionals to score the right projects and for firms to find designers with the right skills. This is the gap our interior design recruiters in Chicago aim to address. They leverage our vast database of professionals to provide both parties with the most efficient matchmaking process.
Since sales and marketing professionals are critical in generating leads, driving traffic, and closing sales, Interior Talent does what it takes to match you with the right candidate. We have an efficient hiring process in place to provide firms with solid options for sales and marketing professionals and connect talents to opportunities that suit their strengths and career aspirations.
Why Partner With Interior Talent
Enjoy an Effortless Way To Find Your Next Job or Team Member
At Interior Talent, we love simplifying the process of finding a practiced architect or an exciting interior design role. Here's how our interior design and architecture recruiters in Chicago do that for you:
We implement a five-step process to help you make the best impression on potential employers, land the best Chicago engineer jobs and flourish in your new role.
Introduction
You begin partnering with Interior Talent to advance your career by sending your resume online. Once we've received your files, a dedicated recruiter will offer professional advice on your material, evaluate your strengths, and update you with relevant opportunities. We're fully invested in your success right from the start.
Be Prepared
Preparation is key to outshining other applicants and bagging your dream role. That is why our interior design and architecture recruiters in Chicago also assist you in preparing your portfolios, professional references, and additional drawings. We also help you research the company you'll be interviewing with so you can come to the meeting all set.
Offer & Onboarding
When you're in the middle of a career transition, it can be overwhelming to juggle receiving your offer letter, resigning from your employer, and starting the onboarding process at the same time. The good news is that Interior Talent empowers you to own your transition. We provide you with resources you can utilize to ease the process of acclimating to a new team.
Shared Success
What sets us apart from most architecture and engineering recruiters in Chicago is that we stay in touch with you, even after you've landed your dream job. We love helping candidates seize the latest opportunities to further their careers, so we'd appreciate it if you could share how our relationship-driven process helped you advance yours.
We consider it a great privilege to work with the most dynamic firms in the architecture and design industry like yours. As such, we've developed a five-step process to help you effortlessly employ and retain knowledgeable professionals.
Discover
Before our architecture and engineering recruiters in Chicago search for professionals to recommend, we'll first invite you to a discovery call. In this meeting, we'll strive to understand your company's culture, goals, and ideal candidate profiles to ensure we know what kind of candidates to look for.
Strategy
Now that we know how the new role fits into your organization and its objectives, our recruitment consultants will work on developing a talent search strategy for you next. We further personalize this game plan according to your needs and the latest trends by leveraging current market insights.
Qualify
Our search consultants follow our customized search strategy to work through the thousands of creative professionals on our database and handpick qualified candidates. You can rest assured that we'll come back to you with a shortlist of vetted candidates without leaving any stone unturned.
Coordinate
Partnering with Interior Talent means working with architecture and interior design recruiters in Chicago who can oversee the entire interview process for you. We'll coordinate schedules, update you through regular communication, and supply you with essential documents like employee assessments.
Hire & Retain
Even after signing your newfound talent, we stay connected with you. Our architecture, design, and engineering recruiters in Chicago will assist you through onboarding, providing you with monthly reach-out plans, performance assessment tools, and retention resources you can use moving forward.
Our Expert Team Works For Your Success
We Implement Creative Ways To Satisfy Your Unique Hiring Requirements
Interior Talent takes pride in building and maintaining an active database of 50,000+ professionals in the A&D industry. We leverage this diverse network to fill Chicago engineer jobs with the best talent and connect skilled individuals to the most relevant opportunities.
We have connections with industry associations like the American Society of Interior Designers, the IIDA, and the National Kitchen & Bath Association. With these partnerships, your team's next key player might very well be a proactive association member.
In-house Content Creators
When you turn to Interior Talent for your hiring needs, you're leveraging our years of experience creating compelling job posts. In addition, we have in-house content creators who know how to craft advertisements and custom blogs to engage candidates in unique ways.
Industry Marketing Insights
Our experts also do their part in ensuring your job listings reach your desired audiences. Moreover, we analyze real-time marketing insights to tap more creative professionals and produce the best results for your agency.
The recruitment experts at Interior Talent are experienced, committed and reliable. And no matter how challenging it is to fill your vacancies, you can count on our tenacious architecture recruiters in Chicago to stick it out until you've found the talent you're pleased with.