We Deliver Focused Solutions and Proven Results You Won't Find Elsewhere
Interior Talent is a recruitment agency that has been delivering strategic talent recruitment and outplacement solutions since 2003. On top of our vast industry experience, we also have some of the most driven architecture, engineering, and interior design recruiters in Dallas who do what it takes to match you with unparalleled industry talent.
We take pride in actively building and nurturing an extensive network of professionals in the architecture and design industries. With our database of talented professionals, we effortlessly connect your firm with today's highly skilled and culturally aligned professionals.
If you're a job seeker, we also have your needs covered. Interior Talent is your vast resource for some of the best architecture, interior design, and engineering jobs in Dallas, TX. We don't simply provide you with the latest openings. Instead, we also supply you with job market trends, interview coaching, and even strategic career planning — everything you need to thrive in your future roles.
At Interior Talent, we're fully invested in the success of our partner employers and candidates. But passion and commitment are not all that we have to offer. We also boast a defined area of expertise and a refined ability to adapt to our client's unique needs.
Leverage our industry expertise to build your dream team and land your dream job. Contact us today to get started!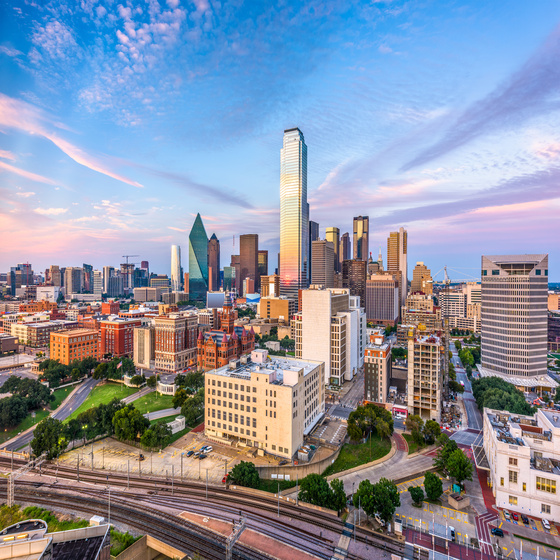 The Interior Talent team is a rare blend of integrity, innovation, and inspiration. They go the extra mile and work hard to make every placement a success – for the client and the candidate. It's a pleasure to work with Interior Talent. Partnership, professionalism, and expertise at its best.
I came to Interior Talent hungry for a big change in my life. Not necessarily knowing exactly what I was looking for, the team was absolutely fantastic throughout the whole process. They closely guided me through revamping my resume, interviewing, and decision-making and always extruded patience, kindness, and helpful insight. Their knowledge of current trends, dos/don'ts of the interview process and mostly, supportive nature were all key features in my success. I HIGHLY recommend Interior Talent!
Industries We Serve
We Deliver Specialized Solutions To Meet All Your Industry-Specific Needs
Architecture firms in Dallas often find it difficult to find and recruit stellar talent, especially with the small architecture job pool in the area. With that said, seeking jobs as an architect can be equally challenging since you naturally want to join a company that can help you propel your career forward. Whether you're an employer looking for full-time direct hires or a job seeker searching for on-site architecture design jobs in Dallas, TX, we're here to help. Interior Talent utilizes its deep insider knowledge of this complex job market to match today's leading architectural firms with expert architects — and create mutually beneficial connections.
In today's increasingly fast-paced business environment, finding and recruiting individuals you can entrust your company's growth with is crucial. Likewise, professionals looking to land a business development role must find a company with the right cultural fit. The Interior Talent Team is here to help you overcome these challenges. We know that credentials are not the sole factors for achieving a successful hire, so we take the time to match employers with talents based on technical skills and business culture. We ensure firms find professionals who can blend into their existing culture and vice versa.
As one of the leading engineering recruiters in Dallas, the Interior Talent team is dedicated to providing employers and job seekers alike with a smooth-sailing experience. We do this by leveraging our innovative applicant tracking systems to screen candidates thoroughly and provide firms with top engineering talents. In the same way, we help candidates score the best engineering jobs in Dallas, TX, by mentoring them through the interview and application process. Our ultimate goal is to establish professionally and culturally aligned connections between engineering firms and job candidates.
As one of the leading construction management recruiters, Interior Talent boasts access to a national pool of construction managers. We leverage this vast talent database to find the right person for any construction management role you're looking to fill. You can rest assured that we won't send you profiles just for the sake of doing it. Helping you hire the best professional is our goal, so we diligently work through our network to find a construction manager you'll be pleased to work with.
Our interior design recruiters in Dallas understand that finding the right project designer or studio director involves more than just posting an attractive job post. Similarly, professionals aiming for the most rewarding interior design jobs in Dallas, TX, must find ways to differentiate themselves from the competition. This is where Interior Talent steps in. When there's an abundance of open roles and interior design professionals, we utilize our vast network, skills, and industry experience to match the right people with the right opportunities. Most importantly, our simple recruitment process is designed to make the whole matchmaking journey as smooth as possible.
Since your leadership team is a crucial part of your organization, we do what it takes to fill your leadership roles with premium talent. We do this by following a multi-step process that begins with listening to your needs and goals and presenting qualified candidates according to your requirements. With that said, you can also count on Interior Talent to assist you in salary negotiations. We're here to help you court senior-level professionals by respecting their experience while meeting your firm's financial and managerial goals.
Why Partner With Interior Talent
Finding Your Next Team Member or Job Has Never Been This Easy
Looking for a skilled design professional or a rewarding architecture role doesn't have to be complicated. Take a look at how Interior Talent can help you gain a valuable team member or transition into a new role as effortlessly as possible.
Our straightforward five-step process helps you put your best foot forward, stay updated with your application's progress, and ultimately score the best architecture or interior design jobs in Dallas, TX.
Introduction
Working with Interior Talent's architecture recruiters in Dallas begins with the simple task of submitting your resume online. Shortly after, we'll provide you with a dedicated recruiter who will keep you up-to-date with the latest opportunities and offer you professional advice on your material. With this, teaming up with Interior Talent means getting the support you need to make the best impression on potential employers.
Be Prepared
Our recruitment consultants take the time to assist you through interview preparations while listening to your needs, technical capabilities, and career goals. They also guide you on which supplemental documentation to secure, such as portfolios, additional drawings, and professional references. Your dedicated recruiter at Interior Talent strives positions you to match the best architecture design jobs in Dallas, TX.
Offer & Onboarding
Receiving an offer letter, resigning from your current job, and stepping into a new role can be a lot to process. That's why we're here to assist you in your career transition. We'll guide you in resigning from your previous employer and beginning your onboarding process. If you're relocating to Dallas for your new role, we also have resources available that you can use to create a supportive network in a new city.
Shared Success
Interior Talent is different from many architecture recruiters in Dallas. Our relationship doesn't end after you've landed the job. You can share your experience working with us in finding your new role to help candidates like you. And if you know someone looking for architecture, design, or engineering jobs in Dallas, TX, you can send them our way too! Of course, we'll send you a small token to express our gratitude if they land a job.
At Interior Talent, we take the privilege of working with the best firms in the industry seriously. This is why we've created this simple five-step process to help agencies like yours fill your architecture and design roles with the best talents in the area.
Discover
We kick off the search for your company's next superstar with our discovery call. Here, our architecture, interior design, and engineering recruiters in Dallas take the time to learn your firm's unique qualities. We'll take note of your company's culture, goals, and how the new role fits into your organization.
Strategy
After the discovery call, we'll put together and process the details we gathered. Our recruitment consultants will also leverage the current market insights, our proprietary networks, and innovative talent search platform to develop a strategic talent search tailored to your needs.
Qualify
Now that we have a bespoke talent search strategy in place, we pass the baton to our team of expert search consultants. They meticulously look through our large pool of design professionals to handpick qualified candidates and provide you with their profiles in the agreed-upon time.
Coordinate
Once you've reviewed the candidate profiles, you can sit back as our architecture and interior design recruiters in Dallas handle everything else for you. We coordinate the entire interview process with open and consistent communication, so you remain on top of things. We'll also supply you with character references, employee assessments, and interview feedback so you can make informed hiring decisions.
Hire & Retain
Your partnership with our architecture, design, and engineering recruiters in Dallas doesn't end once you've hired a candidate. Instead, we'll keep supporting you and your new hire by sharing market trends, performance tools, and employee development and retention resources with you.
Our Expert Team Works For Your Success
We Implement Creative Ways To Satisfy Your Unique Hiring Requirements
Interior Talent has been building an industry-specific database of professionals for almost two decades. Throughout the years, we've connected with talents across various industries such as architecture, interior design, engineering, manufacturing, sales, and more. This vast network of creative professionals enables us to meet even the most specific hiring needs.
We also take pride in developing strategic partnerships with the IIDA, the American Society of Interior Designers, and the National Kitchen & Bath Association, among many others. These affiliations enable our design and architecture recruiters in Dallas to tap proactive association members to be the next key player in your team.
In-house Content Creators
It takes more than simply posting your job advertisements online to attract today's top-notch talents. That's why we also have content creators in charge of crafting job listings, social posts, promotions, and custom blogs. We do what it takes to make your job post stand out.
Industry Marketing Insights
We also work with professionals and certified SEO experts to ensure that the job listings and custom blogs we made for you actually get seen. On top of that, the Interior Talent Team leverages real-time marketing insights to widen your reach, tap engaged professionals, and ultimately generate the best results for your firm.
We keep you posted on our progress as we find talents who meet your requirements. We may also recommend adjustments and ideas for future campaigns to aid your search. But most importantly, our tenacious, ambitious, driven, and caring recruitment consultants leverage their refined skills to give your hiring process — and your company — an impactful boost.